THE COSTLY U.S. PRISON SYSTEM: TOO COSTLY IN TERMS OF DOLLARS, NATIONAL PRESTIGE AND LIVES
provides a careful, close-up look of what's wrong with the prison system and how to fix it from a conservative perspective .
The key topics covered include:
a recent history of incarceration in the U.S.
facts about our prisons and correctional system
the high rate of recidivism after prisoners are released
how other countries deal with prisons and recidivism
how one U.S. state and city have dealt with prisons and recidivism
ways to reduce recidivism and incarceration and cut costs
Available in two versions:
with full color photos and graphs
with black and white photos and graphs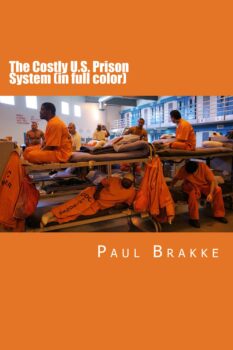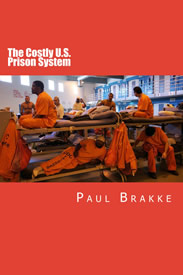 TABLE OF CONTENTS
PREFACE
INTRODUCTION
Why Do We Have So Many Prisoners?
CHAPTER 1 – HOW DID WE GET HERE? 
Recent History of Incarceration in the U.S.
Causes for the Rise in Incarceration
An Analysis of Violent Crime and Incarceration Statistics Since 1960
What Mechanisms Were Used to Increase  Incarceration?
Misrepresenting the Extent of the Violent Crime Problem
Summing Up
CHAPTER 2 – FACTS ABOUT OUR PRISONS AND CORRECTIONAL SYSTEM   
The Cost of Prisons
The Prison System
Solitary Confinement
Federal Prisons
Private Prisons
The Prison-Industrial Complex
Prison Overcrowding and Riots
Local Jails
Youth Detention
Other Detentions
The Parole and Probation Systems
Parole
Probation
Different Types of Prisoners
Summing Up
CHAPTER 3 – HOW OTHER COUNTRIES DEAL WITH PRISONS AND RECIDIVISM 
Examples of Prisons in Other Countries
Europe
The Americas
Africa and Asia
Summing Up
CHAPTER 4 – HOW OREGON AND NEW YORK CITY HAVE DEALT WITH PRISONS AND RECIDIVISM
Oregon
New York City: Does It Offer Tips to Reduce Incarceration Without Increasing Crime?
Major Factor #1 in Reducing Violent Crime in NYC: Reducing Recidivism
Major Factor #2 in Reducing Violent Crime in NYC: Increased Incarceration
How Did Incarcerating Convicts in Jail Affect Crime Rates?
Major Factor #3 in Reducing Violent Crime in NYC: Increased Police Staffing
Other Contributing Factors in Reducing Violent Crime in NYC
Minor Factors in Reducing Violent Crime in NYC
Lessons to Be Drawn from NYC    109
More Incarceration Does Not Always Result in Less Crime
Conclusions
CHAPTER 5 – REDUCING RECIDIVISM   
The Effects of Incarceration and Recidivism on Families
Some Reasons for High Recidivism
Reducing Recidivism Reduces Incarceration
Some Ways to Reduce Recidivism
Education Programs for Prisoners
Current Programs Aimed at Reducing Recidivism
Legislation Dealing with Recidivism
Changes in Policy to Provide More Rehabilitation
Some Problems in Reducing Recidivism Rates
What Else Can Be Done to Reduce Recidivism?
A Jail Program for Drug Addicts
Summing Up
CHAPTER 6 – MORE WAYS TO REDUCE INCARCERATION
Should the Feds Take the Lead or States and Counties?
The Role Conservatives Can Play in Fixing the System
The Effectiveness of the Conservative Approach in the South
Incentives for Increasing or Decreasing Incarcerations
Incentives for Increasing Incarceration
How the Census Promotes Longer Sentences
Incentives for Decreasing Incarceration
Measures to be Considered
Why Longer Sentences Aren't a Deterrent
Juveniles Should Not Be Imprisoned Together with Seasoned Adult Criminals
Reducing the Number and Length of Incarcerations
Another Initial Fix to Reduce Incarceration
Dealing with Violent Criminals
Longer Term Approaches to Reduce Incarcerations
Status of Criminal Justice Reform Efforts
Measures to Reduce Admissions
Actions to Take at the Initial Point of Contact with the System
Measures to Increase Releases
Prison/jail/court practices and policies
Legislative changes
Conclusions
Initially:
Requiring More Time to Implement:
Requiring Still More Time to Implement:
APPENDIX I 
A Short Primer on Correlation Analysis
APPENDIX II
Other Authors' Conclusions Regarding the Causes of the Decline in Crime
APPENDIX III  
Comparisons Between Correlations of Incarcerations vs. Changes in Incarcerations
APPENDIX IV
Minor Influences on the Simultaneous Reductions of New York City
Violent Crime and Incarceration
Misdemeanor Arrests for Marijuana
The Influence of the Broken Windows and Stop and Frisk Approaches
Broken Windows
Stop-and-Frisk Policing
Lead Toxicity
Summing Up
ABOUT THE AUTHOR
ENTER YOUR NAME & EMAIL TO RECEIVE HIGHLIGHTS FROM THE BOOK
☆ We respect your privacy. Your email address will never be shared or sold to anyone, ever. 
12 Suggestions for Fixing the U.S. Prison System Now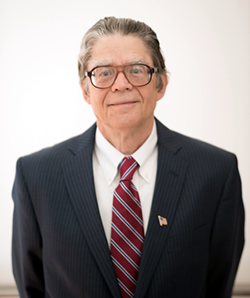 Author Paul Brakke is a scientist based in Central Arkansas.  He became interested in studying the criminal justice system when his life was turned upside down after his wife was falsely accused of aggravated assault
Paul Brakke
American Leadership Books
Little Rock, Arkansas